Guide officiel Final Fantasy The 4 Heroes of Light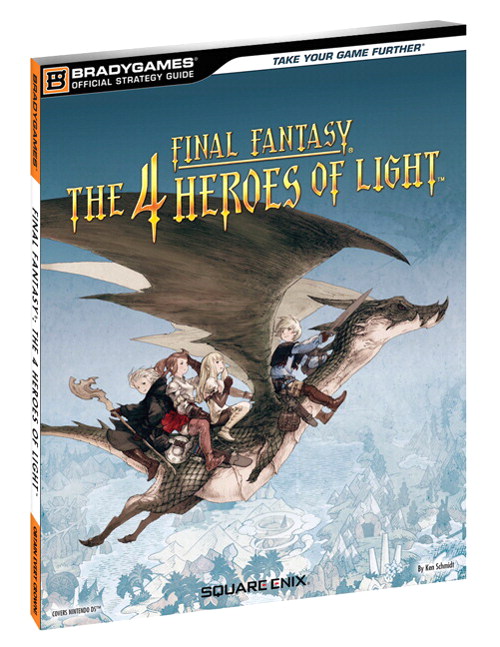 Le guide officiel de Final Fantasy The 4 Heroes of Light
Final Fantasy: The 4 Heroes of Light est un jeu vidéo de rôle développé par Matrix Software et édité par Square Enix. Il est disponible depuis octobre 2009 au Japon et un an plus tard aux États-Unis et en Europe.
Le jeu adopte un style rétro des années phares du RPG japonais tout en incorporant des graphismes entièrement en 3D. Il ne bénéficie pas, cependant, d'une traduction en français.
L'histoire du jeu retrace les aventures de 4 héros chargé de sauver le monde au travers de cristaux à retrouver. Rien de bien originale mais l'histoire ne part pas non plus en ligne droite et il faut un certain temps de jeu pour que les 4 héros soient finalement tous en semble.
Sources : http://fr.wikipedia.org/wiki/Final_Fantasy:_The_4_Heroes_of_Light
Le guide officiel
Le guide officiel de Final Fantasy The 4 Heroes of Light est édité par Bradygames et est sorti en anglais. Pas de version française, ce qui n'est pas un mal puisque le jeu n'a pas été traduit en français ! Le jeu se veut rétro RPG donc un guide est plus qu'utile pour maitriser tout le gameplay et quêtes annexes (plutôt longue) que l'on retrouve dans ce jeu. En effet, avec 28 jobs à maitriser et plein d'équipements et d'objets à trouver il serait dommage d'en rater !
On a donc un bon guide pour ce jeu qui se veut discret à sa sortie mais plutôt bien réussi !