Guide officiel The Last Remnant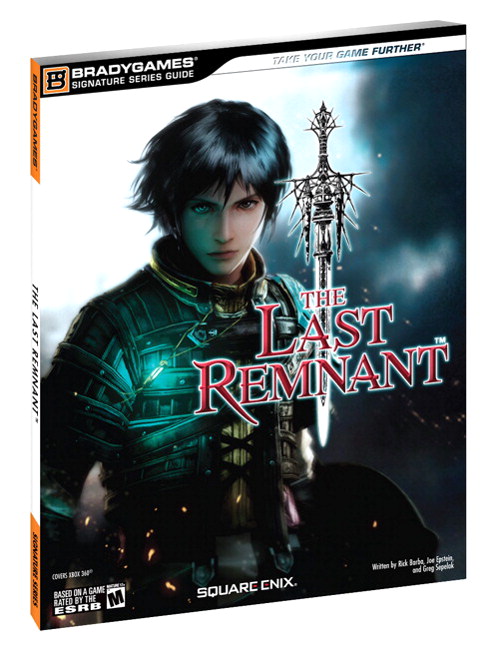 Le guide officiel de The Last Remnant
The Last Remnant est un jeu vidéo de rôle édité et développé par Square Enix. Le titre est disponible depuis le 20 novembre 2008 surXbox 360 et depuis le 20 mars 2009 sur PC, tandis qu'aucune date de sortie n'a été communiquée au sujet de la version PlayStation 3. Cependant, lors d'une réunion entre investisseurs, le CEO de Square Enix, Yoichi Wada, laissa planer le doute quant au développement du jeu sur PlayStation 3. En effet, les faibles ventes du jeu sur Xbox 360 et sur PC ne semblent pas avoir convaincus les développeurs à poursuivre leur effort sur une troisième plateforme. Toutefois, aucune annonce officielle n'a été faite pour enterrer définitivement la sortie sur PlayStation 3.
Le jeu retrace l'histoire de Rush un jeune enfant vivant avec sa soeur en paix jusqu'au jour où cette dernière se fait enlevé sous ses yeux. Rush décide donc de partir à la recherche de sa soeur et découvrira de nouveaux amis et alliés ainsi qu'un conflit dépassant tout ce qu'il imaginait.
Sources : http://fr.wikipedia.org/wiki/The_Last_Remnant
Le guide officiel
Le guide officiel de The Last Remnant est édité par Bradygames et est sorti uniquement en Anglais. Le jeu étant sorti en français le guide peut s'avérer parfois problématique car les noms de lieux sont différents que ce soit en anglais ou en français.
La quantité énorme de personnages jouables et de quêtes annexes fait qu'un guide est très bienvenue pour surtout ne rien manquer et tout réussir ! Bien que l'histoire principale soit plutôt courte la durée de vie du jeu est très grande car il y a beaucoup d'à côté à faire et qui sont pour certains manquables ! Le guide de 303 pages vous aidera dans votre tache !!