Guide officiel Kingdom Hearts Chain of Memories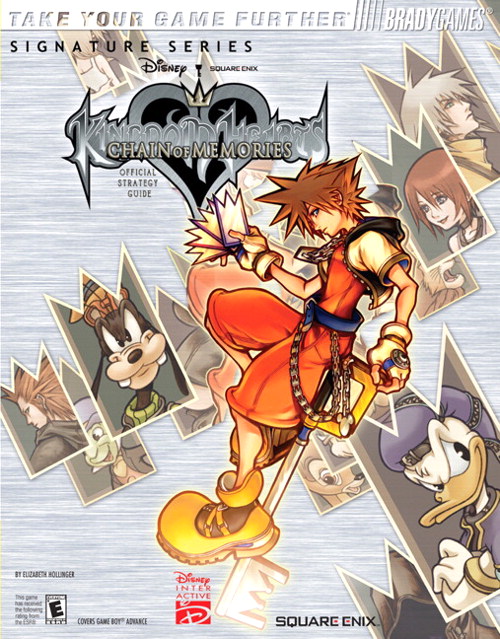 Le guide officiel de Kingdom Hearts Chain of Memories
Kingdom Hearts: Chain of Memories est un jeu d'Action-RPG développé sur Game Boy Advance par SquareEnix. Kingdom Hearts: Chain of Memories est un épisode important puisqu'il met en place la trame du second volet de la série, c'est un épisode qui se situe dans la continuité du premier volet et permet de mieux comprendre les évènements de Kingdom Hearts 2. Il se situe donc entre Kingdom Hearts et Kingdom Hearts 2. Il est disponible depuis mai 2005 en Europe.
Kingdom Hearts: Chain of Memories fait partie de la série Kingdom Hearts.
Après avoir fermé la porte des ténèbres à l'aide de Riku et du roi Mickey, Sora (le héros) se met en quête de la porte de lumière, qu'il est censé ouvrir. En chemin, il croise un mystérieux homme en noir qui lui dit que ce qu'il cherche est devant lui. Sora arrive ainsi devant un gigantesque château nommé "Manoir Oblivion", dans lequel ses souvenirs disparaissent, laissant place à d'autre, jusqu'alors enfouis dans son cœur... Sora et Riku vont de plus devoir faire face à la mystérieuse Organisation XIII, composée d'individus extrêmement dangereux.
Ce jeu a fait l'objet d'un remake sur Playstation 2, dans une version 3D dont certaines cinématiques ont été doublée vocalement, intitulée Kingdom Hearts Re:Chain of Memories. Le système de jeu reste le même que sur son homologue de la version portable.
Ce jeu est tout d'abord sorti dans une version japonaise dans le pack Kingdom Hearts II Final Mix+. Ce pack contient donc le jeu Kingdom Hearts Re: Chain of Memories et le jeu Kingdom Hearts II Final Mix jouable sur la même plate-forme.
Source : http://fr.wikipedia.org/wiki/Kingdom_Hearts:_Chain_of_Memories
Le guide officiel
Le guide officiel de Kingdom Hearts Chain of Memories est édité par Bradygames et est sortie uniquement en anglais. Ce livre illustré vous donnera toutes les informations nécessaire pour d'une part finir le jeu et d'autres parts le compléter à 100%. On retrouvera donc tous les secrets, toutes les tactiques pour battre les boss et un bestiaire complet.