Guide officiel The Legend of Zelda : Tri Force Heroes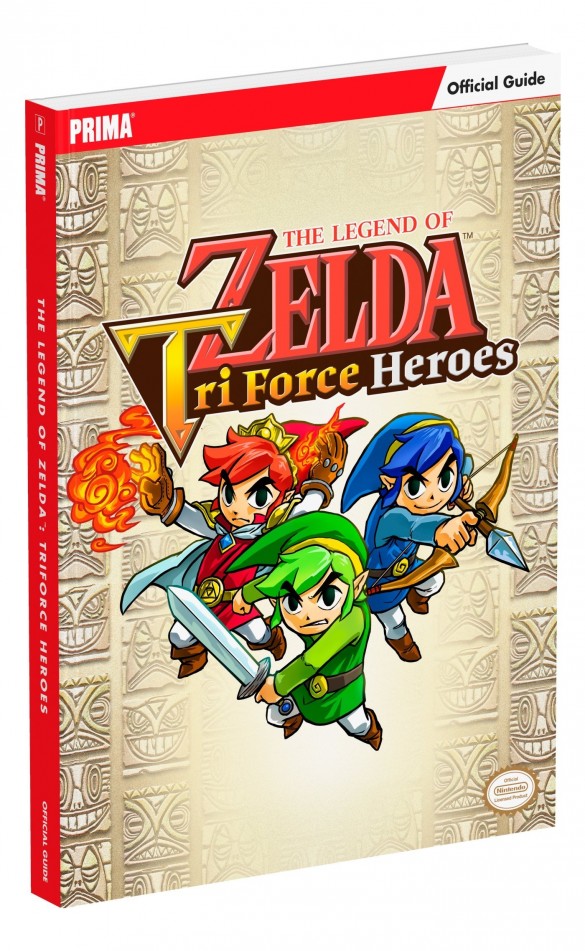 Le guide officiel de The Legend of Zelda : Tri Force Heroes
The Legend of Zelda : Tri Force Heroes est un jeu d'action aventure sorti le 23 octobre 2015 sur Nintendo 3DS. Le jeu est axé principalement sur l'exploration de donjon à plusieurs (jusqu'à 3 joueurs).
Rien à voir donc avec les aventures classiques des Zelda ! Le jeu se rapproche plus de son ainé Four Swords. Le jeu est donc une succession d'épreuves à faire à plusieurs tout en sachant qu'il est possible d'avancer seul bien que ce soit plus compliqué : vous devrez contrôler un par un les 3 personnages de l'aventure.
A noter enfin que le jeu apporte quelques nouveautés par rapport aux autres Zelda comme des objets uniques : baguette d'eau, souffle-vent ou encore les gants de feu.
Le guide officiel
Le guide officiel de The Legend of Zelda : Tri Force Heroes est édité par Primagames et est sorti uniquement en anglais. Disponible en 2 versions, l'une collector et l'autre standard, le guide de 256 pages vous aidera à triompher des différentes épreuves qui vous sera proposé par le jeu.
Voici ce que l'on retrouve dans ce guide :
Cheminement détaillé : Le guide vous fournis des instructions précises pour avancer dans les différentes zones du jeu le tout avec des cartes très pratique
Collectionnez tout ! Trouver l'emplacement de tout ce qui est récupérable pour vous permettre de débloquer notamment les différentes tenues du jeu
Résolvez les énigmes ! Ne restez pas coincé grâce à ce guide !
Stratégies pour les boss : Avec des tactiques testés et validés laissez vous conseiller par le guide.
A noter que vous trouverez dans le guide un code permettant de télécharger la version numérique du guide.
La version collector
En terme de contenu bonus la version collector vous propose un chiffon pour écran de bonne qualité avec un artwork du jeu dessus !