Guide officiel Call of Duty Modern Warfare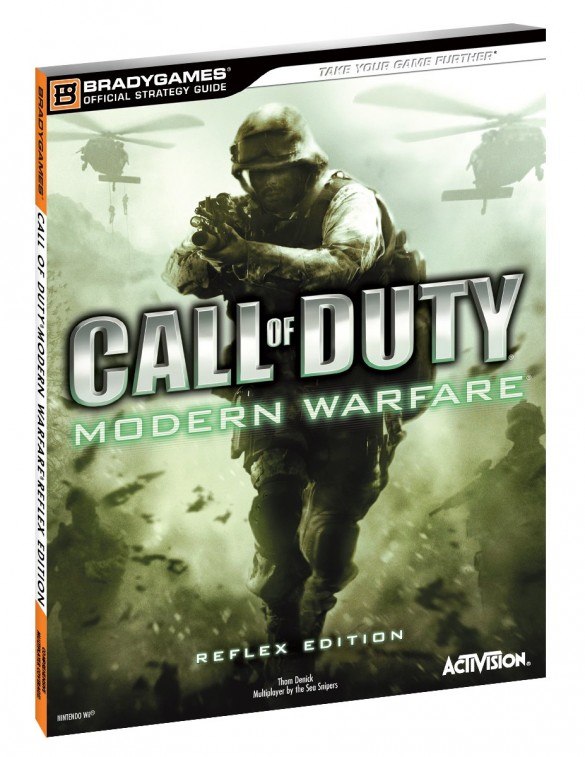 Présentation du jeu
Call of Duty Modern Warfare édition réflexes est un FPS sorti sur Wii le 10 novembre 2009. Le jeu se déroule dans un contexte actuel et permet de suivre 2 conflits inventés en parallèle.
Dans le premier scénario vous incarnez un marine américain au Moyen-Orient et dans l'autre scénario vous êtes un agent anglais en mission en Russie et en Europe de l'Est.
Enfin le jeu est ponctué par un indispensable multi-joueur composé de plusieurs modes.
Le guide officiel
Le guide officiel de Call of Duty Modern Warfare est édité par Bradygames et sorti uniquement en anglais. Composé de 272 pages le guide vous détaillera l'ensemble des possibilités offertes par le jeu (scénario + multi-joueur).
Voici ce que l'on retrouve dans ce guide :
Cheminement compréhensif de la partie solo.
Cartes détaillées des différents endroits explorables. Les cartes vous indiqueront aussi des itinéraires optimaux ainsi que des chemins alternatifs pour vous donner le plus de possibilité selon votre façon de jouer.
Caractéristiques du jeu : On retrouve un inventaire complet des armes, du camouflage, des challenges à relever, etc.
Tactiques de boss : ainsi que des informations sur la façon de venir à bout de certains ennemis.
Couverture complète du multi-joueur et de ses modes de jeu.
Un guide simple et efficace très bien illustré et finalement assez pratique pour bien réussir sa progression dans le jeu.