Guide officiel Call of Duty Black Ops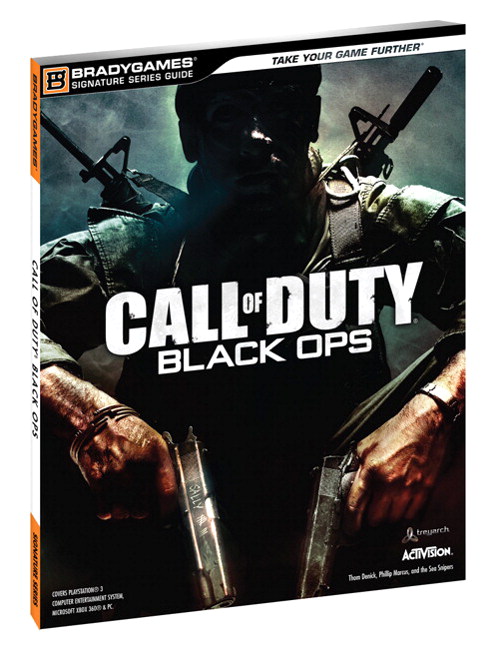 Le guide officiel de Call of Duty Black Ops
Call of Duty: Black Ops est un jeu de tir subjectif développé par Treyarch et édité par Activision. C'est le 7e titre principal de la série Call of Duty. Le jeu est sorti le 9 novembre 2010.
Les joueurs seront dans la peau des soldats d'élite des « opérations clandestines » opérant derrière les lignes ennemies pendant la guerre froide. On visitera des endroits tels que Cuba, l'URSS ou encore le Vietnam. On peut noter l'apparition de certains personnages des épisodes précédents.
Source : http://fr.wikipedia.org/wiki/Call_of_Duty:_Black_Ops
Le guide officiel
Le guide officiel de Call of Duty Black Ops est édité par Bradygames et est sorti en Français. Pour ce jeu qui promet d'être une petite merveille quoi de plus important que de posséder le guide officiel ?? Pour les fans c'est bien entendu une évidence mais rassurez-vous ceux qui ne sont pas (encore) très guide officiel : avoir ce guide vous permettra d'appréhender ce nouvel opus de Call of Duty sereinement !
Voici ce que l'on retrouvera dans ce guide :
Cheminement complet de la campagne pour ne rien manquer et réussir toutes les missions
Cartes des missions (multi et solo) très détaillés avec emplacements des objets et des positions stratégiques
Tactiques de jeux d'experts pour les modes solo et multijoueur
Explication de tous les modes ainsi que divers informations comme les trophées et les secrets à débloquer
Il existe également un version collector !