Guide officiel The 3rd Birthday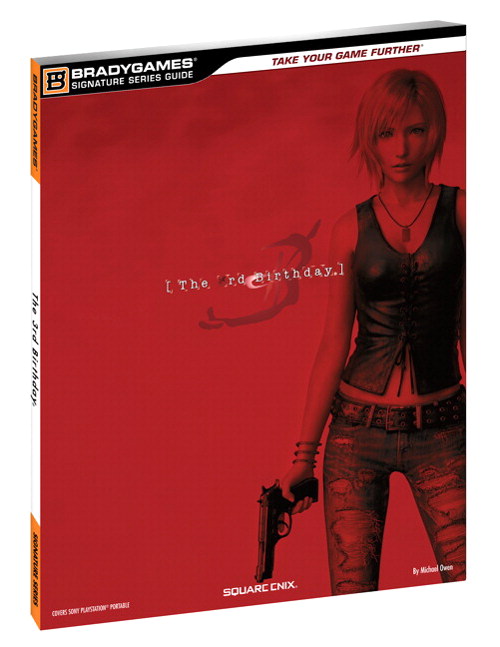 The 3rd Birthday est un jeu d'action sorti sur PSP en avril 2011 en Europe. Il fait parti de la série des Parasite Eve bien qu'il soit à part de la série du fait qu'il ne s'appelle pas Parasite Eve 3.
Le personnage principal, Aya Brea, est de retour dans ce nouveau jeu. Elle doit se battre contre des monstres d'origine inconnue détruisant tout sur leur passage. L'histoire du jeu sera situé à Manhattan où Aya rejoindra une organisation spécialement créé pour éradiquer ces monstres. En effet, Aya est la seule personne à pouvoir utiliser l'overdive ce qui en fait un élément clé de l'organisation !
Le guide officiel
Le guide officiel de The 3rd Birthday est édité par Bradygames et est sorti en anglais. On ne leur en voudra de ne pas avoir traduit le guide en français car le jeu n'est lui-même pas traduit dans notre langue. On a donc un guide intéressant bien que peu de pages (176) qui pourrait faire penser que le jeu n'est pas très complet. Bien entendu ce n'est pas le cas et le guide arrive à intégrer et expliquer tous les éléments du jeu. On retrouvera donc dans ce guide :
Le cheminement complet détaillé dans ces moindres détails avec notamment les stratégies pour battre chaque boss
Liste des armes, l'arsenal du jeu étant assez impressionnant cette section vous sera plus qu'utile notamment au niveau de la customisation
Apprenez à débloquer chaque Feat du jeu grâce à des stratégies spécifiques pour chaque
Le Bestiaire complet des Twisted avec statistiques, points d'expérience, résistances, etc..
Les cartes du jeu avec des illustrations d'ennemis et d'armes localisés sur la carte