Guide officiel Resonance of Fate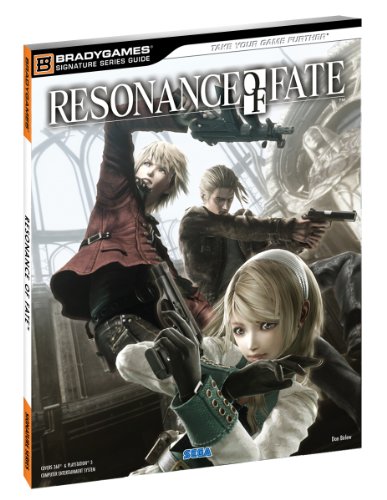 Le guide officiel de Resonance of Fate
Resonance of Fate, connu au Japon sous le nom de End of Eternity, est un jeu de rôle développé par tri-Ace et publié par Sega sur PlayStation 3 et Xbox 360. Le jeu se déroule dans un univers steampunk assez sombre, mais fait toutefois preuve de personnages et d'un humour décalés.
Dans un avenir lointain, la Terre a subi de terribles changement dans son environnement. Pour des raisons inconnues, un gaz empoisonné est sorti du sol terrestre, ce qui provoqua une extinction presque complète de la race humaine. Les survivants construisirent une gigantesque tour nommé Basel afin de s'y installer et de continuer à vivre au-dessus de l'air impur recouvrant la surface de la planète. La civilisation a donc depuis repris ses droits, les classes sociales les plus aisées résidant au sommet de la tour (nommé Chandelier) tandis que les plus pauvres sont conditionnés dans les étages les plus bas.
Source : http://fr.wikipedia.org/wiki/Resonance_of_Fate
Le guide officiel
Le guide officiel de Resonance of Fate est édité par Bradygames et est publié en anglais. Cela peut poser quelques problèmes vu que le jeu est en Français. Cependant le guide reste de bonne facture avec de belle illustration. On lui reprocherait de passer rapidement les passages les plus durs du jeu. Malgré tout ce guide vous apportera toutes les astuces pour finir le jeu à 100%, réussir les combats de l'arêne et finir toutes les missions de chasseurs.