Guide officiel Mafia 2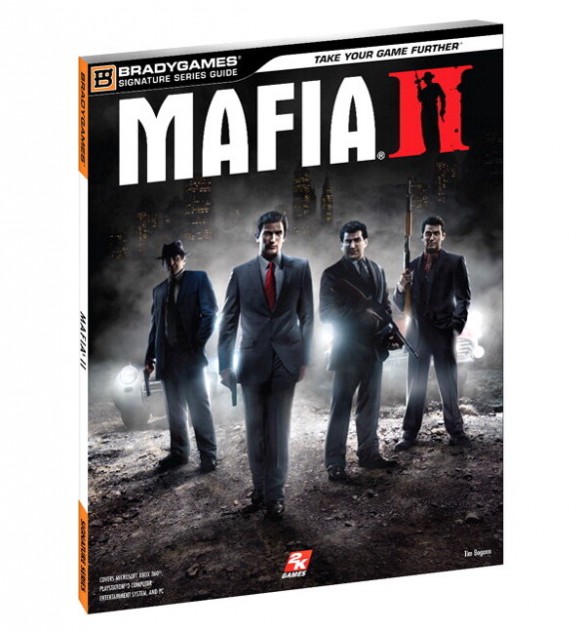 Le guide officiel de Mafia 2
Mafia 2 est un jeu de tir objectif développé par la société 2K Czech et édité par 2K Games. Sa date de sortie est le 27 août en Europe.
Dans Mafia: The City of Lost Heaven l'histoire se finit en 1938. L'histoire de Mafia 2 commence un peu avant la fin de la Seconde Guerre mondiale.
Le personnage principal se nomme donc Vito Scaletta. Il rentre tout juste des champs de bataille européens. Il retrouvera son ami d'enfance, Joe Barbaro, avec lequel il a commis de nombreux crimes. A l'époque, seul Vito avait été pris par la police, qui lui avait imposé un choix : la guerre ou la prison. Vito choisit la guerre. C'est donc en 1940 que Vito et Joe reprendront leurs activités coupables au sein de la Mafia. Henri Tomasino est lui lié à la famille à laquelle Vito appartient. Il est dans celle-ci depuis toujours. Il accompagnera souvent Vito et Joe lors de leurs missions. Le monde de la Mafia est plein de gangs différents, avec des chefs comme Alberto Clemente, Frank Vinci ou Carlo Falcone.
Source : http://fr.wikipedia.org/wiki/Mafia_II
Le guide officiel
Le guide officiel de Mafia 2 est édité par Bradygames et malheureusement uniquement en anglais. Cela n'empêche pas ce guide d'être de bonne facture. On retrouvera notamment les éléments récurrents suivant :
le cheminement complet
la totalité de l'équipement
tous les secrets dévoilés