Guide officiel Final Fantasy 7 – Dirge of Cerberus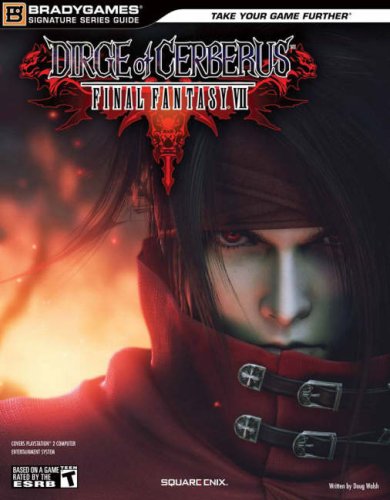 Présentation du jeu
Le temps est venu de nettoyer ce monde. Traquez les indignes ... et ne leur montrez aucune pitié. Trois ans se sont écoulés depuis les événements de FINAL FANTASY VII. Enterré vivant après le désastre de Meteor, un mystérieux groupe connu sous le nom de DG (Deepground) Soldiers apparaît et commence à faire des raids sur la ville. L'énigmatique Vincent Valentine est en quelque sorte lié à ces attaques, et il est peut-être le seul à pouvoir sauver ce monde brisé. Lorsque le monde sera englouti dans les ténèbres, son arme sonnera un terrible discours. D'autres personnages de FINAL FANTASY VII rejoindront Vincent dans son voyage et, au fil de l'histoire, vous pourrez témoigner de vérités choquantes jamais révélées dans le jeu original.
Le guide officiel de Final Fantasy 7 - Dirge of Cerberus
Le guide de Final Fantasy 7 - Dirge of Cerberus de 208 pages est édité par Bradygames et est sorti en anglais.