Guide officiel Enslaved : Odyssey to the West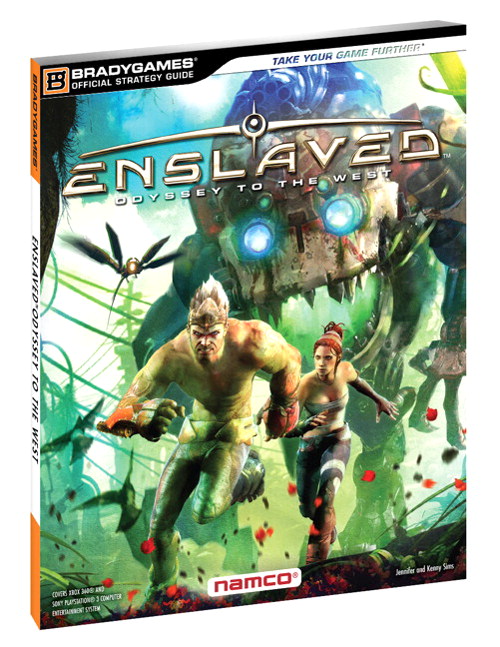 Le guide officiel de Enslaved : Odyssey to the West
Enslaved : Odyssey to the West est un jeu vidéo action-aventure édité par Namco Bandai et développé par Ninja Theory. Le jeu est sorti le 8 octobre 2010 en France. Le jeu est développé principalement sur PS3 puis porté sur Xbox 360. Il met en scène deux héros qui doivent s'entraider pour leur liberté dans un récit se déroulant 150 ans après notre ère et rempli de monstres robotiques.
Le scénario est inspiré du roman Le Voyage en Occident écrit par Wu Cheng'en, tout comme les dessins animés Dragon Ball. L'histoire d'Enslaved : Odyssey to the West a été écrite par Alex Garland, scénariste du film 28 jours plus tard. Le comédien Andy Serkis (Gollum dans la saga du Seigneur des Anneaux) prête quant à lui sa voix au personnage principal. Par ailleurs, l'animation des personnages a été réalisée par motion capture.
Source : http://fr.wikipedia.org/wiki/Enslaved:_Odyssey_to_the_West
Le guide officiel
Le guide officiel de Enslaved : Odyssey to the West est édité par Bradygames et est sorti uniquement en anglais. Le guide est composé de 192 pages contenant les éléments suivants :
Cheminement complet
Tactiques pour maitriser tous les combos et équipements de Monkey
Stratégie pour battre les différents boss
Cartes très détaillés avec tous les emplacement d'objets à trouver
Et bien sur la révélation de tous les secrets ainsi que de la localisation des masques !!